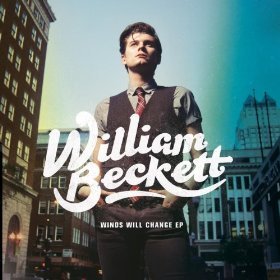 Since the break up of The Academy Is . . ., William Beckett has been working on his solo career. Instead of releasing a full-length, Beckett has chosen the route of releasing a series of EPs every so many months. The first was Walk The Talk, which came out this spring. It was kind of all over the place. The EP was not entirely bad, but fell flat and sounded like Beckett was having an identity crisis. However, in late July, he released his second and much stronger installment, Winds Will Change. In these four songs, Beckett finds his stride and delivers the goods.
The EP opens with the acoustic and poppy "Great Night". It a song about having an enjoyable evening, but knowing that your date isn't the one. "It just wasn't there", he repeats in the refrain. It's really catchy and has a big sing-along chorus. The next track "Warriors" has more of a rock dance groove that falls somewhere between T.A.I. and Franz Ferdinand and is possibly the best song of the batch. "Scarlett (Tokyo)" should also make T.I.A. fans happy. It's catchy, but isn't as strong as the other songs on the EP. The closer, "Dig A Hole", has verses driven by acoustic guitars that open into a lush synth driven chorus.  The change in dynamics is very cool.  
Winds Will Change
is a well-produced and well-written collection of songs. If Beckett keeps this up, he will be on his way to a successful solo career.
Essential tracks: "Warrior" & "Dig A Whole"