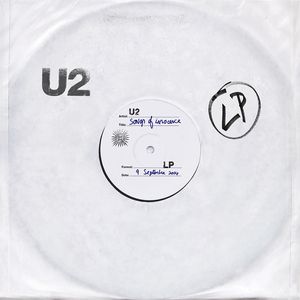 So much has been said about U2's surprise "free" album,
Songs of Innocence
.  Rumor has it that the band earned 100 million dollars from Apple.  Questions have been raised:  Is it a violation of privacy for Apple iCloud users to have this album "forced" upon them? Is this just another instance of Bono and the Illuminati trying to take over the world?  These questions have their place.  However, here at
The Rolling Clone Blogazine,
the only questions to be asked are: "What is the music like and is it any good?" 
First off, if Apple is going to give you a free album, this is a pretty good choice.  Love or hate the band, U2 is always looking forward and not afraid of modern production and new sounds.  At the same time, you can listen to this record and still know that you are listening to U2.  Tribal rock drumming, spacey guitars and soaring arena-sing-along vocals – yep, all of these elements are here in spades.  
U2 is one of the biggest bands around, but for a large number of people this "free" album may be their introduction to the band.  Bono and Co. know this and make the record extremely accessible. 
Songs of Innocence
is not as daring of an album as their last studio effort, 2009's
No Line On The Horizon
, but it is a lot more fun and upbeat.  Each track is anchored by a memorable pop melody.  The album opens with "The Miracle (Of Joey Ramone)".  Driven by a dirty rhythm guitar riff and woah chants, the song is infectious.  The follow up, "Every Breaking Wave" is classic U2 and reminiscent of their sound on
All That You Can't Leave Behind
.   "California (There Is No End To Love)", a driving pop song, and "Song For Someone", a beautiful ballad, keep the listening experience enjoyable and friendly.  The strongest material is at the front of the record.  The later tracks ("This Is Where You Can Reach Me Now" and "Raised By Wolves") on the record may require a second or third listening to get into them, but ultimately remain pretty accessible for people who like rock music in general.  All in all, as a consumer, there really is no reason not to get this album, especially since it is free (until October 14) and the artist is still getting paid.  You can be critical of its commerciality and/or the way it was delivered to you, but on the whole, it is still easily one of the year's best albums, so quit complaining.  
Essential tracks: "The Miracle (Of Joey Ramone)", "Song For Someone" & "Every Breaking Wave".