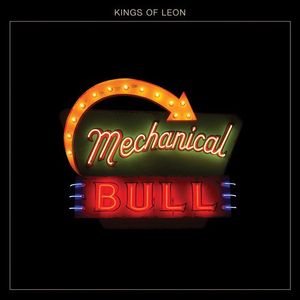 To listen to the Kings of Leon's
Mechanical Bull
 is to hear the sounds of a machine humming back to life.  After their ill-fated 2011 tour, the future of the KOL seemed uncertain.  Rumors of a potential breakup circled the music world.  Earlier this year, however, the band entered the recording studio.  With the resulting album, it sounds like things are getting back on track.  The band worked again with their longtime producer and collaborator Angelo Petraglia at KOL's
music studio
: The Neon Leon. 
Mechanical Bull
was mixed by James Brown (not the soul singer) and engineered by Brent Rawlings.  Between the two of them and Petraglia, the audio is excellent, especially with the guitar and drum production.  The tones are crisp.  
On
Mechanical Bull
, the record is less of a step forward and more like a review of all the different personas the band has embodied over the last ten years.  This idea is reinforced by reoccurring lyrical themes of "returning" and "comebacks" that are all over the back half of the album.  One can hear traces of the
Youth & Young Manhood
and
Aha Shake Heartbreak
-era Kings of Leon in the opening track and first single, "
Supersoaker
".  This is shown with the "Southern Strokes" flavored guitar arrangement and the tight drum production.  Tracks like the fabulous "
Rock City
" and "
Temple
" feel like more commercial cousins of some of the material on
Because of the Times
.  The arena-rock/"Use Somebody"- era KOL are represented on
Mechanical Bull
with mid-tempo, but epically produced tracks like "
Wait for Me
", "
Tonight
" and the ass-kicking "
Coming Back Again
".  Lastly, the laidback
Come Around Sundown
KOL make a couple of appearances too: "
On The Chin
", "
Comeback Story
" and the somewhat boring "
Beautiful War
".  "
Comeback Story
" is really well produced, the guitar arrangement creates a lot of dynamic space and the vocal harmonies are both beautiful and catchy.  
Mechanical Bull 
gives the overall impression that sometimes it is necessary to understand where you have been in order to figure out where you are going.  After a rough patch, the KOL have embraced their past, created a quality record and can now look towards the future. 
Essential tracks: "
Rock City"
, "
Temple
", "
Comeback Story
" & "
Coming Back Again
".