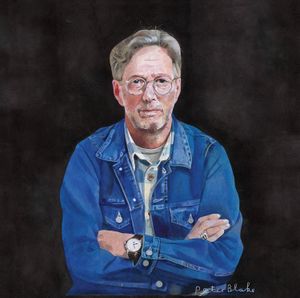 At 71, Eric Clapton proves that he still has his fire.  The icon's newest record, I Still Do, is a swampy and soulful blues journey that is arguably the man's finest album since his 2004 tribute to Robert Johnson, Me and Mr. Johnson.  Although Clapton has admitted that a neurological disorder is making guitar playing more difficult for him, none of that shows as Old Slowhand gracefully feels his way through a collection of originals and covers.  I Still Do is produced by the legendary Glyn Johns who helmed Clapton's 1970s classics Slowhand and Backless, which contain some of Clapton's biggest hits.  
  
I Still Do does not have any real duds.  There are some more forgettable tracks like Clapton's "Catch the Blues" and "Little Man, You've Had a Busy Day."  However, they do not detract from the overall listening experience.  Clapton really grooves on his covers of JJ Cale's "Can't Let You Do It" and "Somebody's Knocking'".  "I Will Be There" features Ed Sheeran (credited as Angelo Mysterioso, a pseudonym first employed by George Harrison when he guested with Clapton's band Cream in 1968).  Other standouts are his take on Dylan's "I Dreamed I Saw St. Augustine," Robert Johnson's "Stones In My Passing" and the opener "Alabama Women."  
  
On his original "Spiral" he sings: "You don't know how much this means to have this music in me.  I just keep playing these blues hoping that I don't lose.  I just keep playing my song hoping that I get along.  You don't know how much it means to have this music in me."  On I Still Do, these words are especially poignant.  The bluesman sounds inspired.  Despite Clapton's physical ailments, the guitarist says he is not done.  Let's hope so.  

Essential tracks: "Can't Let You Do It", "Somebody Knockin'", "Spiral" and "Stones In My Passing."