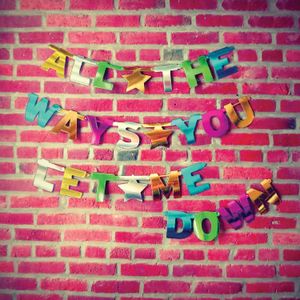 All The Ways You Let Me Down,
the sophomore LP from New Jersey's Candy Hearts, recalls the glory days of the pop-punk emo movement, a time when bands like Blink-182, NFG and Sum 41 were all over MTV and the charts.  In fact, any one of these songs on this eleven-track collection, produced by NFG's Chad Gilbert, could have fit nicely on one of the
American Pie
soundtracks.  Fueled by big sing-along choruses, emotional lyrics, big drums and crunchy guitars,
All The Ways You Let Me Down
is a fun summer record that is hard to turn off.  
On a first listen, it is easy to get hooked by mosh-pit starters like "I Miss You", "Michigan" and the title track.  On subsequent listens, the rest of the songs reveal their own strengths.  For instance, "Coffee With Friends" is a nice change of pace as an up-tempo acoustic track with lush chorus harmonies.  Another driving pop gem is "Fools Gold" with singer and songwriter, Mariel Loveland, telling off some boy by singing: "You are fools gold.  You're wicked and beautiful, but I've got nothing left for you".  All in all, if you miss the heyday of pop-punk, before slick over-production killed it, the Candy Hearts are for you.  
Essential tracks: "
I Miss You
", "Coffee With Friends" & "Fools Gold".  Listen to the record on Spotify by clicking
here
.