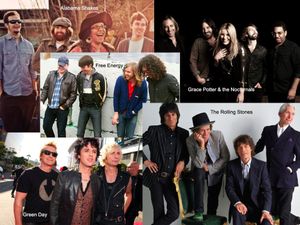 So much great music came out this year, but here are five jewels that might have not been on your radar.  

Free Energy – "Electric Fever"
Free Energy's sophomore album comes out next month, but earlier this year they revealed this tasty treat. "Electric Fever" is the perfect summer jam, a danceable rock anthem complete with plenty of cowbell. The song just feels good!
Alabama Shakes – "Heavy Chevy"
Unless you bought their debut album,
Boys and Girls
(see RCB's review
here
), on itunes, you probably missed out on this bonus track. It's a Chuck Berry-tastic bit of rock and roll lightening that is far more electrifying than anything on the rest of the album.
The Rolling Stones – "Doom and Gloom"
Fifty years later, the Rolling Stones still kick serious ass! Check out this joyful nugget. It is one of the two new tracks on their newest compilation
Grrr
!
Grace Potter & the Nocturnals – "The Lion The Beast The Beat"
"The Lion The Beast The Beat" is the title track and opening track off of Grace Potter's newest album. It is a mini-epic that hauntingly builds into rock and roll greatness!
Green Day – "Stay The Night"
Green Day put out thirty-seven new songs this year, so it is easy to overlook all the gold they have given us. "Stay The Night" is off of
¡Uno!
and it is an exciting power-pop jem that channels, punk, Cheap Trick and the Beatles.