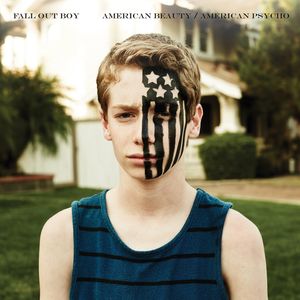 On the band's second post-hiatus album,
American Beauty/American Psycho
, Fall Out Boy prove that they are still one of the boldest pop-rock bands around.  This year marks the tenth anniversary of FOB's commercial breakthrough
From Under the Cork Tree
.  It would be easy for the band to rehash the past and do anniversary tour for that album.  That is not the band's style.  They don't need to.  They are still a vibrant and commercially-successful musical outfit cranking out hits.  As always, they never make the same album twice – yet anchored by Patrick Stump's distinctive and soulful vocals and Pete Wentz's clever lyrical wordplay, the band doesn't lose touch.  When you hear Fall Out Boy, you know it is them. 
Much of FOB's new
American Beauty/American Psycho
centers around up-tempo arena jams that are sure to be blasted at sporting events for the next couple years.  "Centuries" is a prime example.  It was the album's first single and has been used heavily on ESPN.  "Irresistible" and "Immortals" play into the same themes.  However, the real standouts on this album are the title track, "Novicane" and "Uma Thurman."  "Uma Thurman" is a lot of fun and even makes a sample of the Munster's surfy theme song sound pretty badass.  Meanwhile, "American Beauty/American Pyscho" and "Novicane" are pure adrenaline dance parties.  With an album that fixates on high-energy stadium rockers, the quieter moments ("The Kids Aren't Alright" and "Jet Pack Blues") are refreshing and welcome as well.  
At this point in their career, FOB is still as brash and bold as they were when they first rose to popularity.  They are not afraid to embrace arena pop-rock and they do it well.  Haters are gonna hate, but
American Beauty/American Psycho
is a welcome addition to the FOB catalogue. 
Essential tracks: "American Beauty/American Psycho", "Uma Thurman" & "The Kids Aren't Alright".