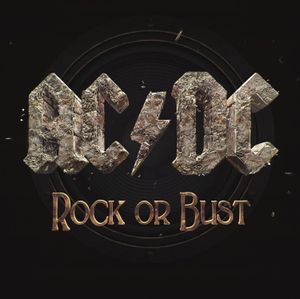 Throughout their 40-year career, AC/DC have never altered their signature sound.  They have never apologized for not growing artistically.  They have never written a ballad and for that, we salute them.  There is something so inherently primal and blood boiling about their music.  Even though one could argue that they are rehashing the same old themes and drum parts every time, their music is somehow still refreshing and hits you in the gut.  With rhythm guitarist Malcolm Young retired and sadly battling dementia, the band carries on with
Rock or Bust
using Malcolm and Angus's nephew Stevie to fill in.  (Malcolm is credited as a co-writer, but does not play on any of the songs).  Although Malcolm's presence is surely missed by fans and the band, ten seconds into listening to the opening title track, it is clear that nothing has changed.  The spark that is AC/DC continues to rock.  Though most of the members of the band are in their sixties, the band sounds as fierce as ever as Angus and Stevie deliver riff after electrifying riff.  Brian Johnson's howl is intact too as he croons
double entendres
about sex, women and rock and roll. 
Rock or Bust
is a good time from start to finish, but be sure to enjoy the title track, "Play Ball", "Rock The Blues Away" and "Baptism By Fire".  40 years ago, AC/DC discovered a magic musical formula that they never needed to change.  
Because if it ain't broken?
Essential Tracks: "Rock or Bust" & "Rock The Blues Away"