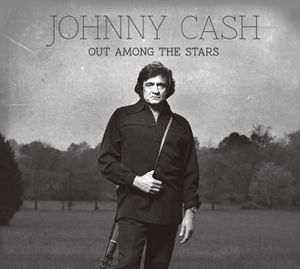 Eleven years after his death, Johnny Cash's distinctive baritone, songwriting and storytelling continue to intrigue new generations of listeners.  He will certainly be remembered as one of the great voices of the twentieth century and beyond.  Since his 2003 passing, his fans have been blessed by a number of fantastic posthumous releases built from his sessions with Rick Ruben as well as from a rich stash of home recordings.  Unlike most posthumous collections by other artists, these are not just "alternate versions" of songs already available on Cash's other albums.  Listeners are getting to hear Cash's take on these songs - some originals and some covers - for the first time. 
Last month's release of
Out Among The Stars
offers proof that there are still treasures waiting for us inside the Johnny Cash vault.  These recordings were originally tracked in the early 1980s, but were shelved by Cash's record label Columbia.  In 2012, Cash's son found the tapes and, with some 2013 musical overdubs, a "new" Cash record was born.  Overall, the collection's production can be described as crisp timeless country complete with slide guitar, shuffling drums and boogie-woogie piano.  An obvious highlight is the opening title track, a song telling the story of a robber with a death wish.  It is a morbid tale, but the catchy sing-along chorus mixed with Cash's delivery gives it a real warmth.  His duet with his wife, June Carter Cash, on "Baby Ride Easy" is a lot of fun too and serves as a sweet reminder of how well the two sang together.  "I'm Movin' On", which includes some vocals from Waylon Jennings, has the feel of an old school rock and roll tune that would not have been a stretch for Elvis Presley to have sung.  "If I Told You Who It Was" features some of that country "talk/singing" that can often come off as a bit cheesy, but Cash somehow avoids this and delivers his lines with charm and authority. 
Out Among The Stars
features two versions of "She Used To Love Me A Lot".  One is the original and the other is a remix by Elvis Costello.  The original version is a moving ballad while the Costello's odd remix comes off as unnecessary.  On the whole,
Out Among The Stars
offers some validation to an often overlooked period in Cash's career.   Overall, there are plenty of memorable moments on this collection that beg the question: "
What else is in that vault?"
Essential Tracks: "Out Among The Stars", "She Used To Love Me A Lot" (Original Version), & "Movin' On".