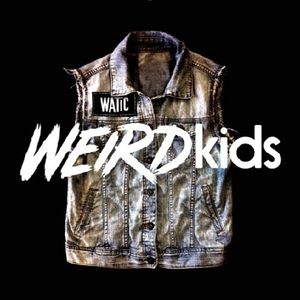 We Are The In Crowd's latest effort,
Weird Kids
, is an enjoyable collection of pop-punk jams.  Listening to the disc, it is clear that WATIC is eyeing a larger audience.  However, the band successfully finds a balance of making a slicker and bigger album without it coming off as soulless.  The band wears their influences on its sleeve. For instance, the album opens with the
Black Parade
-era-MCR-flavored "
Long Live The Kids
".  The song starts off slow before building into an energetic rocker with a big chorus.  "Manners" recalls Taking Back Sunday minus the screaming.  Having toured with Yellowcard and All Time Low, songs like "Reflections" and the album's highlight "
The Best Thing (That Never Happened)
" show that some of their influence rubbed off in the album's writing as well.  We Are The In Crowd have not rewritten the pop-punk rulebook, but instead of have just continued to perfect its craft and mold its sound.  The male/female vocal trade off between singers Tay Jardine and Jordan Eckes is strong and distinguishes WATIC from the above-mentioned bands.  On the whole, there is a not a bad song on this album.  Of the up-and-coming bands waving the pop-punk flag, We Are The In Crowd is one of the best.  So if punk-pop is your thing, so are these "weird kids". 
Essential tracks: "The Best Thing (That Never Happened)", "Long Live The Kids" & "Come Back Home".