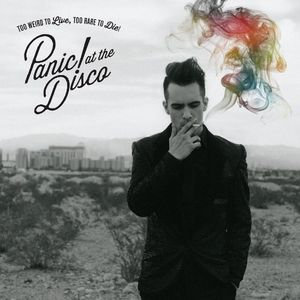 In 2009, half of Panic! At The Disco left because of creative differences, leaving singer Brendon Urie and drummer Spencer Smith with the task of figuring out how to carry on.  In 2011, they worked with producer Butch Walker and released the favorably-received
Vices & Virtues
.  This fall, 
Too Weird To Live, Too Rare To Die!
, an album largely driven by Urie and new bassist, Dallon Weeks, unveiled the next chapter in the Panic! saga.  Spencer Smith is on the record, but his rehab stint hindered his full participation.  
With this new album, they worked again in the recording studio with Butch Walker, but this time, they have moved from dancey-pop-punk to dancey-pop-electronica with splashes of hip-hop.  The record is solid and also genre-defying, especially with the opening two tracks, "This Is Gospel" and "Miss Jackson".  "This Is Gospel" has a lot of processed electronic vocal production on the backing vocals, but Urie's lead vocal comes through with righteous pop clarity most notably in the exploding chorus: "If you love me, let me go!".  Also,
Too Weird
 consistently makes use of electronic beats instead of live drums.  "Miss Jackson" is a good example of the album's hip-hop influence with its beat-tastic verse instrumentation and the tight rhyme structure of Urie's lyrical delivery.  It's a song built for the dancefloor.  Occasionally, the album loses momentum with snoozers like "Girl That You Love" and the indulgent closer "The End of All Things", but it manages to regain its footing with tracks like the ultra-catchy "Collar Full", "Nicotine" and the provocative "
Girls/Girls/Boys
".  All in all,
Too Weird
is designed to make you dance.  As with all things Panic!, it is bold, a little unpredictable and over-the-top – kind of what you'd expect. 
Essential tracks: "
Miss Jackson
", "
This Is Gospel
" & "
Collar Full
".