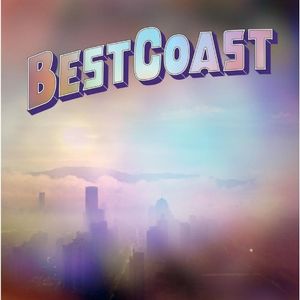 Of the bands that made it big during the indie rock low-fi movement, Best Coast has stood out as one of the best . . . if not the best.  In the beginning, singer/guitarist Bethany Cosentino wrote reverbed-out, sassy and catchy sixties-flavored pop songs about love and heart break in the California hipster world.  Last year's
The Only Place
, was a sonic change of pace for Cosentino and her co-conspirator, Bobb Bruno.  The songwriting stayed in the same vein as their earlier releases, but the production was more hi-fi (choosing to record at the legendary Capital Record's Studio B) and less reverb was used on the vocals, further highlighting Cosentino's vocal gifts.  
Last month, Best Coast unveiled a new EP,
Fade Away
, and it is their best work to date. The production is crisp, but also gritty.  Each one of the seven tracks demonstrate Cosentino's knack for writing great pop songs.  Best Coast's surfy-girl-pop-sass is still intact, but the band's sound is also showing some more nineties rock influences.  One can hear some
Dookie
-era Green Day guitar crunch on rockers like "This Lonely Morning", "I Wanna Know" and "Who Have I Become?".  The title track has a pop-grunge vibe in its production and arrangement.  The band returns to its sixties-tinged roots on the closer, "I Don't Know How".  The song opens sounding like the cousin of Sam Cooke's "Bring It On Home To Me" before switching into double time and exploding with power-bliss.  All in all,
Fade Away
is a great EP that showcases the band's growth and should get music fans excited about Best Coast's next full-length album.  
Essential Tracks: "
This Lonely Morning
", "
I Wanna Know
" & "
Who Have I Become?
"