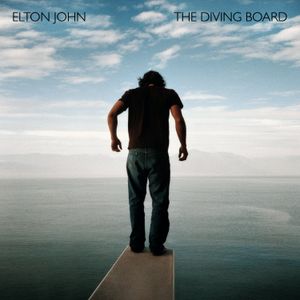 T-Bone Burnett is the recording industry's go to Americana record producer.  Sonically, he practically writes his name into everything he touches from the Grammy-winning
O Brother Where Art Thou?
soundtrack to Robert Plant and Allison Kraus's
Raising Sand
duets collection to Gregg Allman's under-rated solo album
Low Country Blues
.  Burnett's production style is stark and haunting and he always finds a means to highlight a vocalist's voice in both new and old ways.  He did so with Leon Russell and Elton John on their 2010 acclaimed release
The Union
.  Now, he and John have reteamed in the studio for John's latest solo effort
The Diving Board
.  The album was recorded and written over a matter of days and is an accolade-worthy effort.  
In some ways, the album recalls the simplicity of Sir Elton's pre-
Goodbye Yellow Brick Road
era, a time when John and lyricist Bernie Taupin would hammer out bare bones piano rock songs, many with lyrics about the old American West.  Like a lot of those early tracks, the instrumentation on
The Diving Board
has John's voice front and center accompanied by the piano and with some bass and drums as well as some subtle string arrangements here and there.  Burnett's production style favors and often highlights vocalists.  One of the big differences between Elton John then and now is that his voice is huskier from the boyant tenor he had in the 1970s.  It is still a powerful voice, but a different one.  Some of
Diving Board'
s best vocal performances are "A Town Called Jubilee", "Ocean's Away" "Can't Stay Alone Tonight" and "Take This Dirty Water".  Much of
The Diving Board
's material is rather somber sounding, which makes the subtly more uptempo songs like "Can't Stay Alone Tonight" and "Take This Dirty Water", with their light swinging rhythms, really pop. 
The Diving Board
lacks the big pop hooks of the early Elton John canon, but with that being said, the underlying music and Taupin's lyrics are really strong.  Listening to this record is like having a bran muffin.  It's good for you.  Elton John has enough gold and platinum records.  He has reached an age and status where he has earned the right to make the music that moves him.  It is quality stuff and T-Bone Burnett is just the right producer for the job.  
Essential Tracks: "Can't Stay Alone Tonight", "Oceans Away", "Town Called Jubilee" & "Take This Dirty Water".