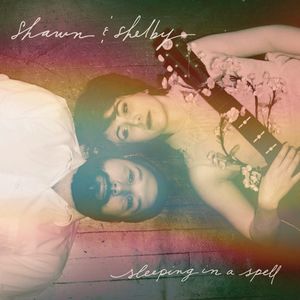 Sleeping In A Spell
is the beautiful debut release by Cleveland-based duo Shawn & Shelby a.k.a Shawn Brewster and Shelby Lynn Sangdahl.  Many may already be familiar with the two's work in their other band Oldboy.  What is most notably different comparing Shawn & Shelby with Oldboy is the way the songs are arranged. 
Sleeping In A Spell
is a much more sparse presentation of their music.  In this new setting, the poetic elements of Brewster's lyrics becomes a greater focal point.  Meanwhile, Sangdahl's cello playing tastefully adds dynamics and drama to each track.  
The record consists of six songs: five originals and a cover of Iron & Wine's "Upward Over The Mountain."  They are all warmly, yet crisply engineered by Jim "The Wizard" Stewart.  The opening track "Light" is one of Brewster's prettiest melodies.  "The Sound of Breathing" could have fit well with Springsteen's material on the
Devils And Dust
album. 
Sleeping In A Spell
is a consistently excellent EP.  However, the crown jewel of the collection is "Speed of Night".  The song is both somber and exciting in its arrangement as Brewster's guitar and voice musically converse back and forth with Sangdahl's cello.  The song's lyrics are rich in their imagery.  For example: "Sick of my sins.  Sick of all these cities and these sidewalks paving over hell." And: "Bend me back and forth like a wire.  Watch me as I dance and shake like a liar."  "Speed of Night's" lyrics offers many great lines that brew with harsh, but vulnerable sincerity.  
All in all,
Sleeping In A Spell
is a promising and compelling debut that highlights the musical chemistry between Shawn & Shelby.  It is now being offered at a "pay what you want" price on the group's
bandcamp
, so check it out.  If you're looking for a soulful Americana record to listen to by the fire this ungodly cold February, this is it.  Put it on.  Open up that bottle of Malbec and let the winter winds howl.