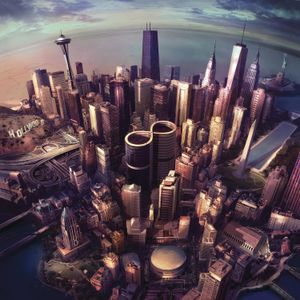 At this point, it would be tough for the Foo Fighters to make a bad record.  They are too talented and too consistent to fall into those traps.  On their new album
Sonic Highways
, the band stays within familiar territory.  There are some small sonic developments (a track with horns and one with an orchestra) but nothing groundbreaking.  It's a solid and pleasant record.  None of its eight tracks are bad, but none of them really stun you.  The intro to the opener "Something From Nothing" is kind of similar to the opening to their song "Skin and Bones", but diverges into an up-tempo rocker.  The two standouts are the horn-infused "In The Clear" and the epic orchestral closer "I Am The River".   In the canon of the Foos,
Sonic Highways
does not reach the heights of predecessors like 2011's
Wasting Light
2005's, 
In Your Honor
or 1990s jewels
The Colour And The Shape
or
There Is Nothing Left To Lose
.  Yet, it is more consistent than commercial successes such as
Echoes, Silence, Patience & Grace
and
One By One
.  All in all, it is the Foo Fighters, which means the album was made with thoughtful integrity.  And since it is the Foo Fighters, it is still way better than most of the competition.  
Essential tracks: "In The Clear" & "I Am The River"