​2013 saw the release of plenty of good music.  With so much to explore, some brilliant songs have slipped through the cracks.  The Rolling Clone Blogazine has found ten of those jewels and wants to make sure you don't miss out!  In no particular order, the Un-rated Songs of 2013 are . . .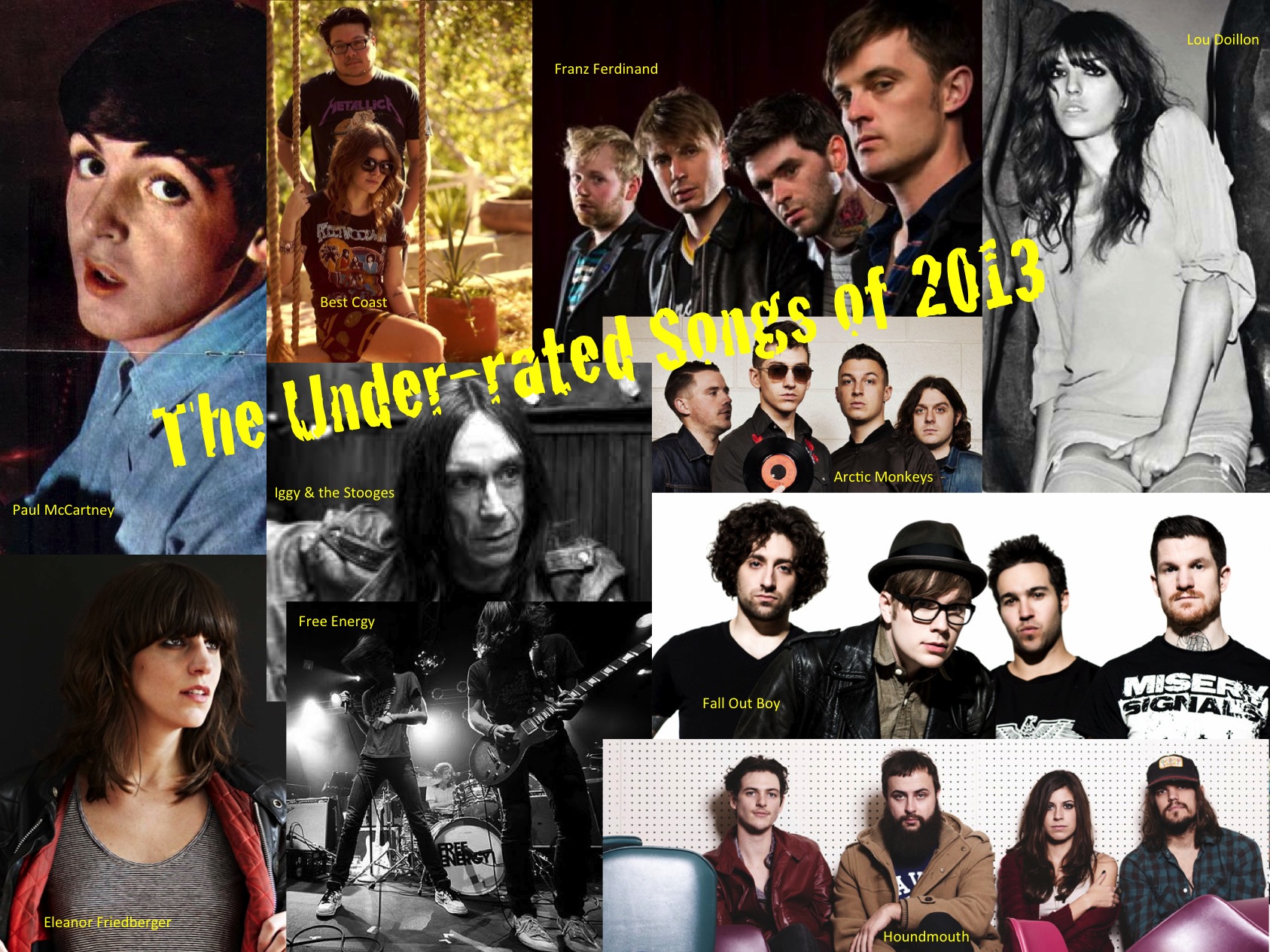 (Click each song title and you will be directed to a video link of each track.) 
Franz Ferdinand - "Fresh Strawberries"
Franz Ferdinand really brought it with their fabulous new record
Right Thoughts, Right Words, Right Actions. 
With "Fresh Strawberries", they skillfully blend one part beautiful retro-AM-sunshine and one part dance rock sass while channeling their inner-Hollies with their infectious chorus harmonies.  
Best Coast - "This Lonely Morning"
In the perfect world, Best Coast would rule Top 40 Radio.  Singer, Bethany Cosentino continues to crank out catchy bullets of pop perfection.  With "This Lonely Morning", she and guitarist, Bobb Bruno, fuse sixties girl pop with nineties-Green Day grit.  Check out the full review of their EP,
Fade Away
.  
Arctic Monkeys – "Arabella"
This year, Black Sabbath released their first new album with Ozzy Osbourne since 1978.  However, the best Black Sabbath song of the year was not written or recorded by Black Sabbath: it was written by the Arctic Monkeys.  Fusing their British indie-rock sensibilities with Sabbath, the Arctic Monkeys have made one killer track that shows this band continuing to blossom.  
Lou Doillon – "Questions And Answers"
Lou Doillon is pretty much unknown in the U.S., but her debut,
Places
, was released over here this June.  Lou has a great voice and smart image-filled lyrics.  "Questions And Answers" is one of those songs that is both immediately likeable, but continues to get better with each listen.  Check out the full-length review of
Places
here
.  
Paul McCartney – "Looking At Her"
Tucked at the end of Sir Paul's brilliant new album,
NEW,
is this bit of pop wonderment.  It is both Beatley and modern at the same time.  The next time you fall in love, listen to this song.  Check out the full review of McCartney's
NEW
here
.  
Fall Out Boy – "Young Volcanoes"
One of the reasons 2013 was great for music was because the members of Fall Out Boy decided to bury the hatchet, hit the road and make a new album,
Save Rock And Roll
.  Their summery acoustic stomp, "Young Volcanoes", shows the band continuing to dominate in the "pop hooks" department.  On this track, Pete Wentz proves that his lyrical wit was not numbed by the band's hiatus: "
We'll show you how to make boys next door out of assholes
."  Read the full review of
Save Rock And Roll
here
.  
Free Energy – "Hangin'"
In one three minute and thirty-five second track, Free Energy have captured the idealization of summer teenage love and presented listeners with another delightful pop-rock gem.  "
I feel so boss, makin' out with you lipstick gloss . .
." The full review of Free Energy's 2013 LP,
Love Sign
, can be read
here
.  
Houndmouth – "Ludlow"
Fusing the Americana beauty of the Lumineers with the grit of the Band, Houndmouth have arrived singing songs about love, addiction and hard times.  Their debut,
From The Hills Below The City,
is one of the year's best and "Ludlow" is the perfect introduction to why this band has the potential to become huge over the next few years.  Read the full album review
here
.  
Eleanor Friedberger – "Stare At The Sun"
It is tough to make songs that are both lyrically rich and catchy, but Eleanor Friedberger makes it look easy.  Check out this single from her fantastic second solo album,
Personal Record
.  Read the album's full review
here
.  
Iggy & the Stooges – "Beat That Guy" 
When you think of Iggy & the Stooges, you think of wild proto punk and a shirtless Mr. Pop rolling around in glass.  Ballads seem very unusual for this iconic band, but on their 2013 release,
Read To Die,
they show that they can still maintain their bite at lower volumes.  In a worn 66-year-old baritone, Iggy, with gritty vulnerably, sings about survival and determination to win.  The track comes out of left field, but it's a stellar song.  Rock on Stooges!  Check out the album's full review
here
. (This song is not on Youtube as of this publishing)